Rotherham's historic shops restored in regeneration bid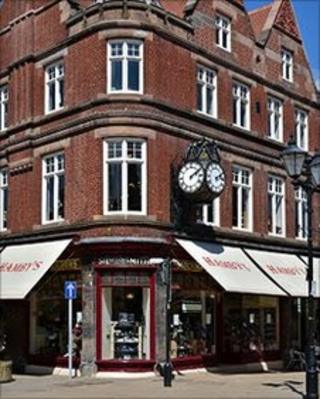 Historic high street buildings in Rotherham are being restored as part of a scheme to revive the town centre.
The council said renovating key character buildings would help encourage new businesses to locate there.
Hamby's shoe shop, a building which dates to 1760, has already been restored with roof and window repairs and a missing turret reinstated.
Work is now due to start on four more properties.
The project is part of a heritage lottery fund scheme which gives grants to property holders to regenerate conservation areas.
Councillor Gerald Smith, the council's cabinet member for town centres, economic growth and prosperity, said: "Rotherham is blessed with historic buildings that have medieval history as well as examples of Georgian, Victorian, art-deco and '50s architecture.
"These are character buildings that deserve to be restored and which cannot be found in shopping malls and retail parks."