More than 1,000 'interested' in Sheffield Park Hill flats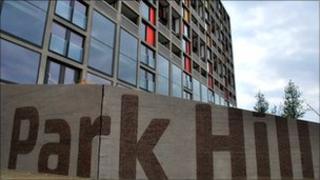 More than 1,000 people have registered their interest in purchasing a flat in Sheffield's Park Hill estate, which has undergone a £14m facelift.
Urban Splash, the company behind the redevelopment of the Grade II listed flats, said it was "thrilled".
Fifty-two apartments in the north-block will go on sale from 8 October after seven years of redevelopment.
Local estate agent Nick Riddle said he was "gobsmacked" by the interest after seeing a lull in city apartments.
Uncertain future
Mr Riddle, from Eadon Lockwood & Riddle estate agents, said Sheffield city centre apartments were seeing a slump in sales.
"I don't see how Park Hill flats will work," he said. "Some of the city centre flats, and there must be well over a hundred available to rent or buy, aren't selling so why would these?"
Mr Riddle said one-bedroom city centre apartments were currently selling for about £60,000.
Since Urban Splash revealed a starting price of £90,000 for one-bedroom flats in the north block three weeks ago it claims more than 200 people have shown an interest.
The north block is the first area of Park Hill to be redeveloped and the future of the flats remains uncertain.
'Cautiously and prudently'
Urban Splash has said it will not carry on redeveloping other blocks until an undisclosed amount of the north block flats are sold.
Mr Latham said the full redevelopment of Park Hill, which consists of a total of 874 flats, was being taken "step-by-step" and with the economic climate in mind.
"There's always been an approach to this project, phase by phase and that we're building the right number," he said.
"We have to take it cautiously and prudently."
The estate, which celebrated its 50th anniversary in June, was designed by Jack Lynn and Ivor Smith and became known as "the streets in the sky" due to its wide corridors.