Crews tackle Barnsley farm fire in Ardsley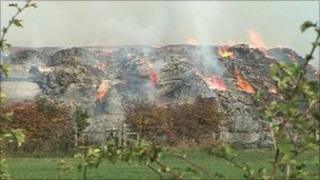 People in a town near Barnsley are being advised to keep their doors and windows closed following a fire.
The fire service was called shortly after 04:45 BST on Tuesday to a blaze at Wood Laithes Farm on Doncaster Road in Ardsley.
More than 40 firefighters and seven fire engines remain at the scene controlling the fire.
The fire service said the fire started in a large amount of straw but spread to an agricultural building.
It is believed that some animals may have died in the fire.