Brazilian judo team train in Sheffield ahead of 2012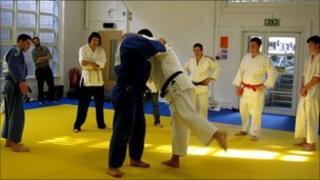 The Brazilian judo team are in Sheffield for their first pre-Olympic training.
The 19-strong group have been training at Sheffield Hallam University ahead of the GB World Cup in Liverpool this weekend.
The team have been working with black belt students from across Yorkshire as part of their preparation.
Manoela Penna from the team said Sheffield had been chosen as it offered "outstanding" facilities.
They have been in Sheffield this week as part of a "recce" before going back in November and again in 2012 for their pre-Olympics training camp.
As part of their visit, the team have been travelling to London to see the facilities and Olympic village and experience a range of training in Sheffield, including working with amateurs from across the region.
'Logical choice'
Jeffrey Haines, Yorkshire development officer for the British Judo Association, said: "The Brazil judo is very, very highly ranked and probably a top five nation in the world. We're trying to get as much development work off the back of that basically to build judo in Yorkshire and Humber."
As part of the facilities at the university, the team had trained using 3D video analysis for the first time, said Ms Penna, allowing them to improve techniques and monitor what they do.
"We're trying to use everything we can from the facilities," she said.
"It was a logical choice for us to be in Sheffield. We visited the facilities in the city and we decided that we wanted to stay here. The facilities are outstanding."
Guy Masterman, head of sport at Sheffield Hallam University, said it was a "tremendous honour" to support the team and it was "testament to the facilities and sport support systems" in the city.