Abbeydale Industrial Hamlet in Sheffield receives funds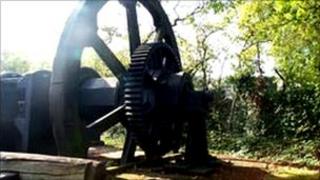 An 18th Century steelworks in Sheffield has been given funding to further develop as a visitor attraction.
The Abbeydale Industrial Hamlet has been given £47,200 from the Heritage Lottery Fund to develop plans for the site and apply for further funding.
Alex Pettifer, chairman of Sheffield Industrial Museums Trust, which submitted the bid, said it was a "significant" step forward.
Plans include a new learning centre and the restoration of machines.
The initial funding will be used to develop plans for the site and apply for a full grant later in the year of more than £800,000.
The hamlet, which contains 18th and 19th Century listed buildings and machinery, plans to expand as a visitor attraction.
It currently opens to the public at limited times throughout the year.
'Significant success'
The machinery at the site, which was originally powered by four water wheels by the nearby dam, will be brought back to life if further funding is given.
It is hoped that the water wheels, which are in badly need of restoration, will be repaired, turning the hamlet into a "regional centre for water power expertise".
Mr Pettifer: "We're delighted that the Heritage Lottery Fund has given us this support, it is a truly significant success for the trust.
"Abbeydale Industrial Hamlet is a place of outstanding historical significance and it is important that we continue to preserve the site."
The trust said it will draw up plans for a new learning centre and workshops to attract local metal workers.