Outdoor art gallery 'puts Rotherham on map'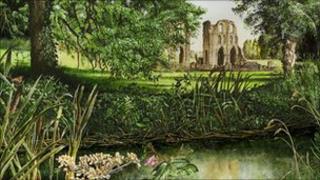 A business leader has said he hopes a new £100,000 outdoor art display in Rotherham will help boost the town like art and culture did to Liverpool or Spain's Bilbao.
More than 60 artworks by local and national artists are on display in the "gallery", which launched on Friday.
The works - based on two themes, "human form" and "landscape" - are fixed on to public buildings and shops, including College Lane and the newly-built Minster Gardens.
The project, which has been funded by local businesses through donations and sponsorship, was dreamt up by a group of local entrepreneurs trying to find ways to encourage people to the South Yorkshire town.
Works by local artists, including Zahir Rafiq, Leslie R Black, Sara Platts, Chris Bird and Stephen Smith, will feature alongside reproductions by great masters such as Monet, Da Vinci, Van Gogh and Picasso.
Guided tours will be put on of the exhibition, which also features artwork from pupils at seven local primary schools.
Nick Cragg, chairman of the Rotherham Economy Board, said he believed the display would increase visitor numbers and encourage investment in the town.
'Exciting experience'
He said: "You only need to look at places like Bilbao in Spain or Liverpool, where art and culture has helped to regenerate whole cities and really put these places on the map with visitors and shoppers.
"Not only should it help to regenerate the town centre, but also give budding artists the opportunity to showcase their work in a highly visual environment that will help them to further their careers."
"We're hoping to create an exciting visual experience and also an educational one. We just wanted it to be a place where it's different."
Sharon Joyce, head teacher at Swinton Primary School, which helped produce some of the works of art, said: "It is fantastic that artwork from our students is being displayed in the town centre for people to see.
"It has given the pupils involved a real boost and we hope it will inspire even more young people."
Mr Smith, from Bramley, whose landscape painting of Roche Abbey was commissioned for the exhibition, said: "It's a great idea - it will make shopping in Rotherham an exciting and artistic experience as well as introducing people to some interesting artwork, which they might not otherwise get the chance to see."
The project will run for 18 months initially and will continue if further funding can be secured.