Pam Liversidge is Sheffield's first woman Master Cutler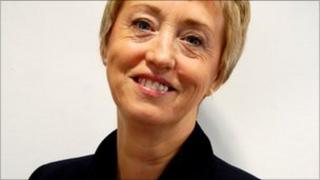 A woman is to become Master Cutler in Sheffield for the first time in the role's 387-year history.
Pam Liversidge OBE, a qualified engineer, will start her role this week at the Cutlers' Company.
Ms Liversidge will become the 373rd Master Cutler since the company was founded in 1624.
The role of the Master Cutler is to act as an ambassador to promote local manufacturing and technology.
Ms Liversidge, who was awarded an OBE in 1999 for her services to engineering, said becoming the first female in the role was an "important step".
"For many years we've been trying to say manufacturing is really important," said Ms Liversidge, "We take that message down to the city of London."
Usually, when the Master Cutler is appointed his wife becomes the Mistress. However, Ms Liversidge said her husband Doug, a former Master Cutler himself, will be referred to as her Consort.
The Mistress Cutler role will also continue, with Jean Stone, wife of a former master, taking it on.
Ms Liversidge said she will look at how women are supported within manufacturing, as part of her role.
"I've been trying to promote women in engineering and science and technology for a long time," said Ms Liversidge.
"A lot of them have knowledge, skills, experience and we can't afford to lose that."
The Cutlers' Company of Hallamshire was originally founded to ensure proper training for manufacturing in the city, as well as keeping high quality standards in goods.