South Yorkshire chief constable criticises police cuts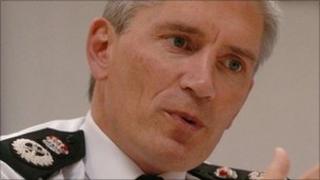 The chief constable of South Yorkshire Police has said the government has created a north-south divide through its spending cuts.
Med Hughes said the cuts had had a "disproportionate affect" on forces in the north of England compared to those in the south.
He said areas with higher council tax incomes could withstand the cuts better.
Prime Minister David Cameron said he did not accept Mr Hughes' comments.
South Yorkshire Police has said it needs to cut £40m from its budget over four years.
'Millions more'
Mr Hughes, who retires this week after seven years as chief constable, said: "I wish the government had looked more sophisticatedly at the model of spending cuts it was imposing and perhaps imposed them on those forces that were inefficient or better able to withstand the cuts."
The chief constable, who joined the force in 2004, said 80% of South Yorkshire's housing was in the Band A category, which meant less money was raised through council tax.
He said: "Many people in Band A don't pay taxes because they're on various different benefits. So there's a reduced opportunity to raise money locally."
Mr Hughes said forces across northern England would suffer in comparison to the south because they relied on central government grants.
He said forces such as Surrey and Sussex raised "millions more because of the style and standard of housing".
Earlier this year he warned crime would rise because of budget cuts.
Speaking to BBC Look North, the Prime Minister said police forces across England were being asked to make cuts of about 7% or 8% over four years.
He said: "That's the nationwide figure. There are variations, of course there are, but I don't think that's an impossible task to ask of police forces.
"On the issue of the north/south divide I don't accept this. One of the things we are doing is making sure, through the regional growth fund, through enterprise zones, that we help regions like Yorkshire as much as we can."