Barnsley College strike over lecturer redundancy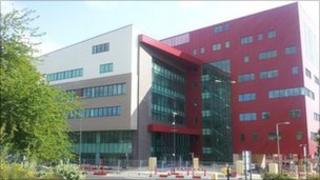 Staff at Barnsley College are on strike over a dispute about a lecturer being made redundant.
History lecturer Graham Mustin, has so far not been redeployed to a post within the college and now faces compulsory redundancy.
University and College Union [UCU] representative, Lee Short said Mr Mustin was being "victimised".
However, college principal, Colin Booth said: "We don't create jobs based on the needs of our staff."
Earlier this year, the college announced that it would need to make savings and 91 staff went into a redundancy pool.
A number of staff have taken voluntary redundancy, severance pay or were redeployed within the college.
'Little interest'
According to the union, only one member of staff remains and it claims the college could have redeployed Mr Mustin to another post but it has refused.
However, Mr Booth said: "We don't create jobs based on the needs of our staff, we create jobs because our students need to be supported.
"There have been well over 100 jobs advertised in the college and Graham has chosen not to apply for most of them - in fact he has shown very little interest."
Lee Short from the UCU said: "It seems [Graham] is being victimised first of all. He's going to be an expensive member of staff because he has worked here for over 20 years.
"He's an active member in the union, that's clearly an issue."
The college said students were left unaffected by the strike action.