South Yorkshire's CARP fire engines 'unsafe', says union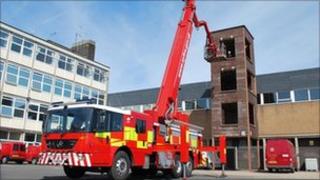 Four fire engines costing £2m have been condemned as unsafe and unreliable, and may lead to a loss of life, the Fire Brigades Union in South Yorkshire said.
A union official said the Combined Aerial Rescue Pumps (CARP) had suffered mechanical breakdowns, fires and were sometimes "unstable" in use.
Official John Gilliver said he had "never seen problems to this level".
South Yorkshire Fire and Rescue Service said it was aware of problems and hoped to resolve them.
Mr Gilliver, the Fire Brigades Union (FBU) Secretary for South Yorkshire, said the CARP vehicles had a history of problems, including being too heavy for UK roads when they were delivered and frequent mechanical problems.
He also said there had been incidents of the vehicles catching fire and needing their own crews to deal with the flames.
And Mr Gilliver said the cherry picker platform on the vehicles had become jammed both on exercise and at incidents
'Absolute joke'
He said: "They're constantly being repaired and a fire on an appliance had to be extinguished by crews.
"They're appalling, they're an absolute joke.
"We're concerned for the safety of the crews going out on these vehicles.
"Management are saying these are teething problems, that's simply not true.
"I'm an appliance driver with years of experience and yes, we've had teething problems before, but never to this level.
"One day I'm sure someone will be killed.
"They should come off the road, enough is enough, we need to get to the bottom of what's going on with these vehicles."
In a statement the fire service said there had been "issues" with the vehicles and solutions were being sought.
"We have experienced a number of operational issues with our CARP appliances since they first became available in April," the statement said.
"We are currently investigating three incidents which occurred in the past week.
"Our investigations into the issues reported since April show that some have been mechanical faults and some were due to operator error.
"Like the FBU, we are concerned about these issues and are working tirelessly to address them to keep the CARPs available as often as possible.
"The public of South Yorkshire are safer as a result of the CARPs being available since we have four in the service, compared to the three aerial platforms.
"CARPs are also immediately available upon first arrival at an incident, unlike the aerial platforms, and provide £1m per year in savings.
"We are determined to rectify these issues to ensure their ongoing availability to keep the public safe."
The CARPs were designed to both fight fires and act as an aerial rescue platform, and so reduce staffing levels.
The fire service bought four trucks in 2006 at a cost of £2m, but they required modification because they were too heavy to use legally on roads.
The Barnsley engine is one of two which went into service at the beginning of May after a five-year delay.
The two remaining engines were initially used for training.