Medics treating Barnsley soldier targeted, inquest told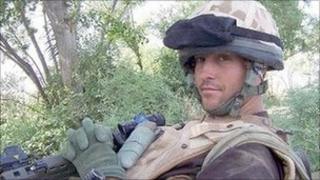 Comrades of an army captain who was fatally wounded by a bomb blast in Afghanistan have told an inquest they came under enemy fire as they attempted to treat him.
Captain Martin Driver, 31, died of his wounds three weeks after the blast in Helmand in February 2010.
Capt Driver, originally from Barnsley, South Yorkshire, was flown back to Birmingham's Selly Oak Hospital.
Birmingham Coroner's Court heard the patrol was attacked after the blast.
Giving evidence on the first day of the inquest, men under Capt Driver's command described how they came under attack from rocket-propelled grenades and small-arms fire about a minute after the explosion.
Capt Tim Hearne told the coroner the early morning patrol was forced to return insurgents' fire as a Chinook helicopter arrived to evacuate Capt Driver to Camp Bastion.
'Physical fortitude'
The platoon commander said a number of improvised explosive devices (IEDs) had been found before the fatal blast which happened close to a compound at about 07:45 local time on 21 February.
The officer added: "As soon as that blast went off we saw insurgents coming out of a mosque. The insurgents then opened fire on the Chinook and at that point we returned a lot of fire and protected the helicopter."
Another soldier also suffered shrapnel wounds in the explosion which occurred on a track which showed no signs of disturbed ground.
Bombardier Gary Sides, who witnessed the blast, told the coroner: "I was looking directly at Capt Driver and almost immediately after he had turned round in my direction I heard an explosion and saw a large cloud of dust.
"About one minute after the explosion our location was contacted by rocket-propelled grenades and small-arms fire.
"The next thing I remember is looking towards Capt Driver and seeing a combat medic and two other soldiers treating him."
The patrol near Musa Qala then called in air strikes from Apache helicopters which arrived about 15 minutes later, amid sporadic small-arms fire from insurgent positions.
Pathologist Russell Delaney confirmed Capt Driver, a member of 1st Battalion, The Royal Anglian Regiment, died of organ failure caused by blast injuries which could have resulted in death in the field.
"It's testament to the medical treatment that he received and his own physical fortitude that he survived as long as he did," the pathologist said.
The inquest is expected to conclude on Friday.