Campsmount College celebrates 'topping-out' milestone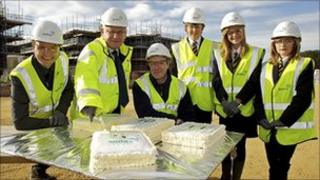 A "topping-out" ceremony has taken place at a Doncaster college whose rebuilding after a fire was put in doubt when the Building Schools for the Future (BSF) programme was cut.
Campsmount Technology College was wrecked in a fire in December 2009.
The Department for Education (DfE) gave the go-ahead to a new £10.7m school in September 2010, despite the government axing the BSF.
The topping-out ceremony marked the completion of the new school's roof.
The rebuilding of the college began in February 2011 on the same site as the original building, at Norton in Doncaster.
Students have been working from temporary classrooms since the fire, which was caused by an electrical fault.
'Extremely exciting'
When the government axed the BSF programme, the rebuilding of Campsmount had looked uncertain.
But the DfE granted the money to rebuild after the school and Doncaster Council made representations to education ministers, explaining the exceptional circumstances.
Andy Sprakes, head teacher at Campsmount, said the traditional topping-out ceremony marked an "extremely exciting" time for staff and pupils.
"It has been wonderful to watch the new building take shape," he said.
"The enthusiasm this transformation is creating can be seen on the faces of all our staff and students."
Mr Sprakes said everyone was "very much looking forward" to seeing the fully completed school.
The school is due to be finished in February 2012.