Protests over plans to turn quarry into travellers site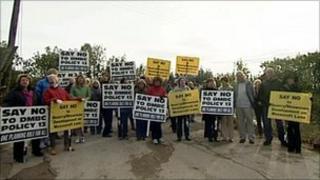 Protests were held at a disused quarry as plans to turn it into a site for travelling fairground families were being considered.
Residents have submitted a petition with 700 signatures to Doncaster Council, which is looking at proposals to make use of Hatfield quarry.
Protester Theresa Plumb said the plans had not been scrutinised enough.
Roger Tuby who submitted the proposal said the site would be unused for the majority of the year.
The Doncaster Council planning committee, which met at the quarry to view the site before making a decision, was met by locals.
Mr Tuby said: "There is a proposal for 18 plots. Each plot would have a family. Let me stress to you, the words 'travelling showman' means they aren't even there three quarters of the year."
The plans submitted to the council seek to restore the former sand and gravel quarry by tipping inert waste.
'Health and safety'
Ms Plumb there were concerns over the water supply becoming contaminated:
"We don't think this site has been scrutinised carefully enough.
"The site is in a source protection zone so its very important that pollutants are not allowed to enter the water supply.
"It won't work and it will cause health and safety issues," she said.
Some residents who spoke to the BBC at the site said they had concerns over 24-hour access as well as traffic and noise pollution.
Others said they were "not bothered" about the proposals for the site and could not "see what the problem was".
The plans are due to be discussed on Tuesday.