Barnsley soldier's family thank rescue-attempt comrades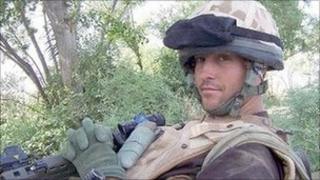 The father and twin brother of an army captain fatally wounded in Afghanistan have paid tributes to soldiers who braved enemy fire to try to save him.
Captain Martin Driver, 31, from Barnsley, South Yorkshire, was evacuated from the battlefield by his comrades after the blast in Helmand.
He was brought back to the UK and died in hospital three weeks later.
A Birmingham coroner recorded a narrative verdict that Captain Driver was killed by enemy action.
Speaking at the conclusion of the inquest, Capt Driver's twin brother David and father John both expressed their personal thanks to his comrades.
David Driver said: "Martin was, and still is, in my mind an exceptional person.
"He was a loving son to mum and dad and a devoted partner to Jo. Our family has been devastated by the loss of Martin and I can't explain how much I miss him."
Directly addressing uniformed soldiers who served alongside Capt Driver, some of whom wiped away tears, his brother added: "He was devoted to you, his colleagues.
"On behalf of my family - Martin's family - I would like to thank every one of you who was there in the field, who supported him medically and soldiering, to get him home.
"To have Martin home with us in his last few days meant everything to us. We will forever be in your debt for that."
'Massive' efforts
During his comments to the inquest, John Driver expressed his gratitude to those who helped bring his son back to the UK, and also thanked the Army's support network for its "massive" efforts to help his family.
Comrades of Capt Driver earlier told the inquest they came under attack from rocket-propelled grenades and small-arms fire as they attempted to treat him and apply tourniquets in the field.
The attack started moments after the officer, a member of the 1st Battalion of The Royal Anglian Regiment, stepped on an improvised explosive device during a patrol near Musa Qala on 21 February last year.
The wounded officer was subsequently flown back to Birmingham's Selly Oak Hospital after undergoing initial surgery in Afghanistan, but died of multiple organ failure on 15 March.