Sheffield students turn crisp packets into blankets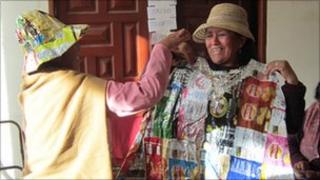 Blankets made from recycled crisp packets in Sheffield are being used to prevent cases of hypothermia in Bolivia.
Three mechanical engineering students developed a prototype bag sealing machine which is used to heat and seal the packets together.
They spent time in Bolivian villages to produce and sell the foil-lined items.
It is claimed they are as effective as normal emergency blankets, retaining 97% of the patients body heat.
It is hoped the villagers can run a viable business making and selling the blankets.
One of the students, Aimee Clark, said: "When we were in Bolivia we really saw the need for the blankets and for the women involved to have their own means of income.
"We developed a strong relationship with one woman in particular, Maria, who is the manager of the project, and who will always stay close to our hearts.
"Hopefully this business will be an inspiration to other women in Bolivia who want to improve their quality of life and that of the people around them in their community."