Mum's road safety campaign after son, 9, seriously hurt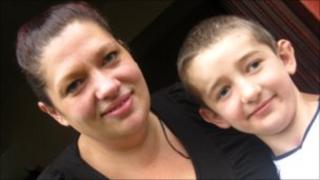 A Sheffield woman is campaigning for an improvement in road safety after her nine-year-old son was hit by a car and seriously injured.
Leasa Ward, whose son Mitchell was knocked down in the Manor area of Sheffield last June, said more needed to be done to prevent another tragedy.
An illuminated 'Smiley SID' sign was put up at the site after the accident to warn drivers of their speed.
Mrs Ward said the sign is not sufficient to prevent another tragedy.
'Break my heart'
"I'm struggling looking at that road," she said.
"I've seen a lot of accidents on that spot where Mitchell was knocked over since I've lived here and the Smiley SID's not enough. Something needs to be done quickly before something else happens."
She added: "If another child got run over while nothing's been done it would break my heart."
Mitchell suffered life-threatening injuries when he was hit by a car at a junction between Harborough Avenue and Fretson Road.
He was left in a critical condition in hospital and underwent brain surgery. He is now recovering at home after being released from Sheffield Children's Hospital three weeks ago.
Campaigners have been calling for improved traffic calming measures at the junction.
Mrs Ward added: "Even if it's just a zebra crossing, just any kind of crossing to make cars slow down and stop".
In a statement, Councillor Leigh Bramall, from Sheffield City Council, said: "We want to do everything we can to keep people safe on the city's roads.
"SIDs work well to reduce speed. Providing a SID at the location isn't the only thing that we are doing.
"We have already approved a strategy to introduce 20mph zones around schools, and in residential areas across the city where they are needed."