Sheffield school reopens after sex assault claim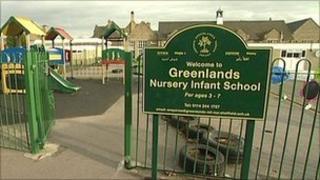 A Sheffield school at the centre of a sexual assault allegation has reopened.
Greenlands Nursery Infant School, on Fisher Lane, Darnall, was closed on Tuesday after an allegation of a serious sexual assault on a pupil.
A person has been arrested, questioned and released on police bail in connection with the alleged assault.
There was a small police presence outside the school on Thursday morning. Some parents told the BBC they were not taking their children back to class.
One parent said: "The school has failed to inform the parents fully and to reassure them. The parents don't know what to do."
Another parent said: "Within the community everyone is concerned. We want answers."
The school was closed after about 250 parents expressed concerns during a meeting with police and council representatives on Monday night.
Sheffield City Council said it recognised it "had been an anxious time for all concerned" and specialist staff had "been in the school to offer support, advice and reassurance to parents" throughout the week.
The council said the support would continue "while parents feel they need it".
Councillor Jackie Drayton said: "We have listened carefully to issues raised by the community and will continue to do so."
She added: "Some have been dealt with immediately, others will need a longer term plan.
"However, we are committed to working together to ensure a positive way forward for the school."