Shops urged put temporary age limit on matches sale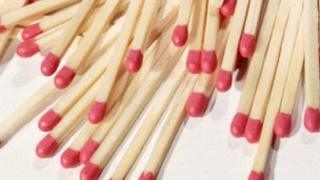 Shops in South Yorkshire are being asked not to sell matches or lighters to people under 18 in the run-up to Halloween and Bonfire Night.
The police and fire service are running the Strike It Out campaign in an effort to reduce arson-related fires.
Steve Fletcher, from the fire service, said reducing access to matches and lighters for a few weeks would limit anti-social behaviour.
Asda in Goldthorpe has signed up to the voluntary scheme.
There is no age restriction on the sale of matches or lighters, however there is an over 18 restriction on the sale of lighter fuel or any lighter refill.
Mr Fletcher, station manager at South Yorkshire Fire and Rescue Service, said: "It's illegal for under 18s to buy cigarettes and it's illegal for under 18s to buy fireworks so in relation to matches and lighters we're simply hoping by reducing access to we'll be able to have a positive impact on reducing any anti-social behaviour in the community."