Sheffield cancer research centre opens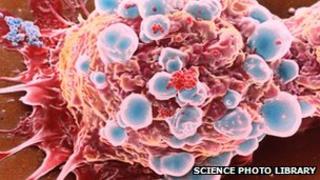 A new cancer research centre has opened in South Yorkshire, with scientists pledging it will lead to "improved treatments" for cancer patients.
Work at the Sheffield Cancer Research Centre, based at Weston Park Hospital, will focus on breast, lung and bone cancers.
The centre will also investigate how the disease starts, grows and spreads.
Professor Rob Coleman, centre's head, said it would build on Sheffield's "world-class" cancer research.
'Improve lives'
Two charities, Cancer Research UK and Yorkshire Cancer Research, are partners in the centre, alongside Sheffield University and Sheffield Teaching Hospitals Trust.
The charities said they would increase their investment in Sheffield to about £3.5m a year to ensure the centre would "set the pace" for progress in researching the disease.
Professor Coleman said it was an "exciting" new development for cancer research in Sheffield.
"It will bring together a variety of researchers and clinicians to work together to improve the lives of cancer patients across South Yorkshire and beyond," he said.
"By building closer links between scientists and doctors we want to increase the pace of research, leading to improved treatments for patients."