Hunt for teenage sex attacker one year on in Sheffield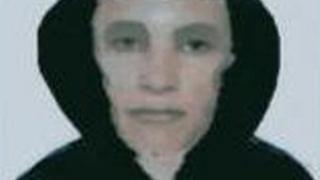 Police are appealing for information a year after a 14-year-old was subjected to a sex attack in Sheffield.
The assault took place between Fox Hill Road and Edge Well Crescent at 15:20 GMT on 4 November 2010.
The attacker is described as white, with a spotty complexion, aged about 18 and of slim build.
Det Insp Etheridge from South Yorkshire Police said 160 suspects had been eliminated from its inquiries. Anyone with information should contact police.
The man is described as having a long skinny face, a pointed dimpled chin and a pointed nose.
He has dark brown straight hair, which had hair gel on and was combed forward onto his forehead.
Police said he was wearing light blue jeans and a royal blue jumper with a hood.
It had a front pocket and white writing across the chest.