No charges over Sheffield school sex assault allegation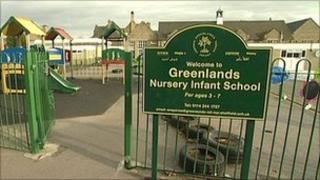 No charges will be brought against a person who was arrested over allegations of sexual assault on a Sheffield infant school pupil.
Greenlands Nursery Infant School, on Fisher Lane, Darnall, was closed for two days after the allegation was made.
South Yorkshire Police said it had acted quickly and carried out a "robust, thorough" investigation.
The force said it had found no evidence to substantiate criminal charges.
Ch Supt Simon Torr said: "From the moment the allegation was made at Greenlands Infant School, South Yorkshire Police and Sheffield City Council took immediate and appropriate action.
"South Yorkshire Police have taken great care to handle this matter seriously and with sensitivity. Our investigation was robust, thorough and we explored every possible avenue.
"Our officers were available in school and several people came forward to discuss concerns, however no further child protection criminal investigations have been initiated.
"Following this investigation, we have found no evidence to substantiate any criminal charges."
Mr Torr thanked the pupils, parents and staff at the school and the wider community for their support during the investigation.