Music project in Rotherham gets Children in Need money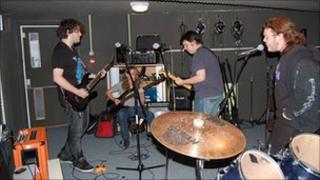 A project in South Yorkshire which helps young people has been given £78,345 by Children In Need.
Base to Beat is a music project based in Rotherham which helps people aged between 13 and 19.
The charity gives people the opportunity to learn to play instruments, have singing lessons and write and record songs.
The money given by Children in Need will be used over three years to fund a worker to help young people.
Stephanie, who has singing lessons at the centre, said: "It has helped my singing and made me more confident."
After coming to the project Stephanie has progressed from a grade two singer to a grade five.
"I just love singing, it helps me get all my emotions out and Beth the singing teacher is amazing, I'm hoping to become a professional singer."
The centre has a rehearsal room which also can be used as a studio and facilities to hear recordings back. There is also a chill out zone where bands can sit and write songs.
Ben, who comes to Base to Beat for his band rehearsals, said: "We are recording an LP at the moment, we write our own songs and I've been writing since I was about 12."
"Base to Beat gives the band the option to record some of our music and we don't have to pay for it, the equipment is really good and the staff are great," Ben added.
Richard Masters works with the students on their project.
He said: "It is really inspiring to see the young people creating music there is so much talent there."
Young people who attend the project have recently written, recorded and produced a CD of their work to raise money for other local charities.
BBC Radio Sheffield is hosting a special screening of Grease in aid of Children in Need, at Cineworld cinema in Sheffield on Tuesday 15th November. Tickets are £6, with £5 going to Children in Need. More details here.