Sheffield City Council proposes 690 job cuts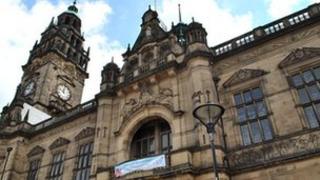 Up to 690 jobs could be cut at Sheffield City Council as it looks to make savings.
The council estimates a budget shortfall of £57m in 2012/13 and said it hoped to make redundancies through volunteers and retirement.
It is proposing to make various posts redundant including management and clerical jobs.
Pete Davies, from the GMB union, said the cuts were "despairing" and "horrendous news for Sheffield".
The council said it was searching for a preferred bidder for a 25-year contract to maintain Sheffield's roads and reviewing office accommodation.
Together changes in those areas could save £40m, said the council.
'Estimated figure'
Councillor Bryan Lodge, deputy leader of the Labour-run council, said: "We are determined to deliver value for money services.
"We are not underestimating the size of the challenge we are facing but it is one that I am certain this council, both officers and councillors, are able to rise to.
"I would like to stress that this is an estimated figure and towards the upper end of our estimation.
"We are not yet in a position to confirm a definite number, as this is obviously dependent on the decisions made by councillors around the budget options.
"However this is likely to represent the worst case scenario and we will of course do whatever we can to reduce the number.
"The council wants to hold constructive talks with the trade unions going forward," said Mr Lodge.
Mr Davies said: "These are massive cuts to a public sector in Sheffield and Sheffield will feel that pain.
"What we need to be doing is sitting down with elected members of this council and we need to be talking about the best solution."
The council is proposing to cut 33 manual workers, 50 clerical staff, 74 management and professional roles, 289 technical staff and 244 staff referred to as "other".
No final decision will be made until a complete proposal is put forward to the full council for a full sign off in March 2012.