Doncaster tourist figures up by a fifth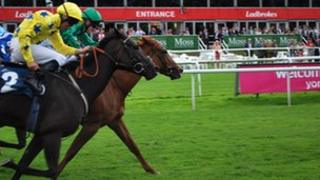 The number of tourists visiting Doncaster has risen by about 20%.
Doncaster Tourism said almost a million people had visited the town, compared to 800,000 between September 2009-10.
Two tourism highlights are the St Leger racing festival and the world's last flying Vulcan bomber, which went on display at Robin Hood Airport in April.
Colin Joy from Doncaster Tourism said: "It's certainly bucking the national trend. The fact that Doncaster is experiencing growth is brilliant news."
The Yorkshire Wildlife Park, the South Yorkshire Aircraft Museum and the English Heritage site Brodsworth Hall have all been cited as popular visitor attractions by the council-led tourism organisation.
'Firmly on map'
"We're getting tourists from all over the world," said Mr Joy.
"We're regularly getting people from as far away as Australia, New Zealand, Canada and the United States because there really is so much to see and do in Doncaster.
"We've been working with Welcome to Yorkshire to get Doncaster more firmly on the map than perhaps it has been in the past."
The report from Doncaster Tourism said hotel occupancy had also risen by over 12% in the past year.
Mark Spincer, managing director of Doncaster Racecourse, said: "We've had a really good season. We've seen some growth all year, including the royal wedding event where we saw 22,000 people attend on the royal wedding day."
Mr Spincer said that despite the St Leger festival providing more than 20% of its overall attendance, it also focused on events outside the racing calendar.
"You've got to be diverse. We race 33 days of the year so you could argue that for 11 months of the year we have a big site that we really need to make sure we use. It's where we are putting our focus."
Mr Joy said he was looking to develop new attractions to give people "extra reasons to come back again and again".