Occupy Sheffield to meet with city's church leaders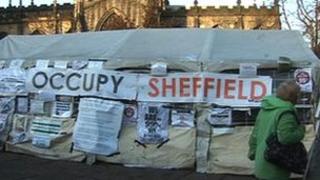 A group of campaigners outside a South Yorkshire cathedral has been invited to have a "big conversation".
Dean of Sheffield Cathedral Peter Bradley has written a letter to the campaigners who have occupied land outside the building since 5 November.
In his letter, the dean asked members of the group to join church leaders to answer questions and to talk about the idea behind the protest.
About six members of the camp will meet with church representatives later.
Mr Bradley said the church had been trying to explore a way of being able to hear the issues.
Around 50 campaigners marched from City Hall to the cathedral protesting "against poverty and capitalism" earlier this month.
When the group originally set up its camp, church members raised concerns about the "important" work in the city being damaged by the Occupy Sheffield camp.
Protester Deborah Mahmoudieh said: "We are trying to build a more friendly relationship with them.
"They are much more tolerant of us then they were in the beginning."