Funeral for Barnsley soldier Matthew Thornton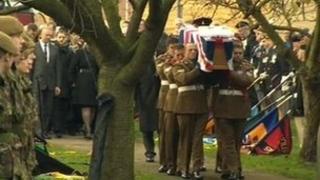 A Territorial Army serviceman killed in Afghanistan has been described as the "the epitome of the modern volunteer soldier".
Mourners packed All Saints Church in Darton, South Yorkshire, for the funeral of Pte Matthew Thornton, from 4th Battalion The Yorkshire Regiment.
The 28-year-old from Barnsley was killed in Helmand Province on 9 November.
His family earlier said his death would leave "a huge hole in all our lives".
Hundreds of people ringed the churchyard, standing in silence as the coffin was carried through a guard of honour.
Pte Thornton's father and mother, Michael and Susan, comforted each other as they followed the coffin, which was draped with a Union Flag and had his Army cap and belt on top.
The Reverend Simon Reynolds, Vicar of Darton, said Pte Thornton's family had shown great courage in the weeks since his death.
He said: "They are very brave people, very remarkable people. In a sense what I have seen in them gives me just a little insight into what a remarkable person Matthew must have been."
During the service, Lieutenant Colonel Ian Crowley, commanding officer, 4th Battalion The Yorkshire Regiment, said: "For me, he was the epitome of the modern volunteer soldier - professional, fit, enthusiastic and ready to party after working hard."
A keen snowboarder, Pte Thornton joined the Territorial Army in 2004.
He left in 2007 but re-enlisted in 2009, volunteering his services for deployment to Afghanistan.
Away from the Army, he worked for Yorkshire-based company Premdor, manufacturing door and window frames.