Barrister with MS challenges Sheffield City Council over rise in care fees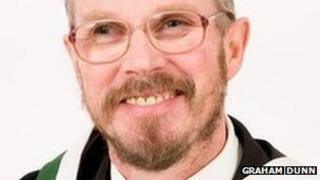 A man with multiple sclerosis has begun a legal challenge against Sheffield Council over a rise in his care fees.
Michael Tooley, who has suffered from the illness since 1997, said his weekly contribution towards his care had increased from £115 to £345.
Mr Tooley, a barrister, said the rise was excessive and discriminatory.
Sheffield City Council said it had carried out a full public consultation before changes were made to its contribution fees earlier this year.
Mr Tooley, who works in Sheffield, said secondary progressive MS meant he relied on non-residential care to lead a "normal life" because he cannot walk, stand up or move his right arm.
"I receive from the council, my own budget that I spend on my own care, for things like people helping me to go out, accompany me on holiday, so I can live as much of a normal life as I can."
'Reflects national guidelines'
A solicitor working on behalf of Mr Tooley has written a letter to the council outlining his concerns.
Eddie Sherwood, director of care and support at the Labour-run council, said: "We cannot comment on any pending individual court case and this claim has been referred to our lawyers for consideration.
"Our lawyers are currently awaiting a reply from the complainant's lawyers in response to various points they have made.
"We feel we followed all due process around consultation, taking full account of the impact any changes would have on individuals, and have only asked people to contribute to the cost if they have the ability to pay, and this national guidelines"
In October, the council announced it was to make a 205% increase in the cost of about 200 people's weekly contributions as it looked to cut £15m from its social services budget.
Mr Tooley said: "I'm not expected to pay for my healthcare I receive or my children's education - why should I be expected to pay an excessive amount for the day-to-day care I require to carry on living normally?"