Wentworth Castle conservatory restoration wins European cash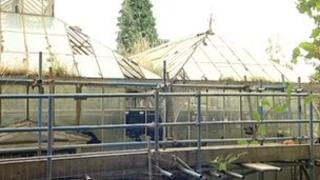 A dilapidated Victorian conservatory in South Yorkshire which was featured on the BBC's Restoration programme can be saved thanks to a European grant.
Work can now begin to restore the conservatory at Wentworth Castle, Barnsley, after it won £820,000 from the European Regional Development Fund.
Michael Klemperer, Wentworth estate manager, said the conservatory could now be taken apart and fully restored.
"It is fantastic not only for Barnsley but for the whole country," he said.
'Barnsley's Crystal Palace'
Wentworth Castle, which is Grade I listed, came third in the BBC TV programme Restoration in 2003 after receiving 130,000 votes.
The series asked viewers to choose which historic British building they wanted restored.
Mr Klemperer said the European Regional Development Fund award to save the Grade II listed conservatory was "really exciting".
"It has sat unused for many years and we have been desperate to restore it, but we've never quite had the money," he said.
"This is the last great conservatory in this country which hasn't been restored, and now it can be."
"It's Barnsley's very own Crystal Palace."