Rotherham man killed in stabbing named as Justin Hague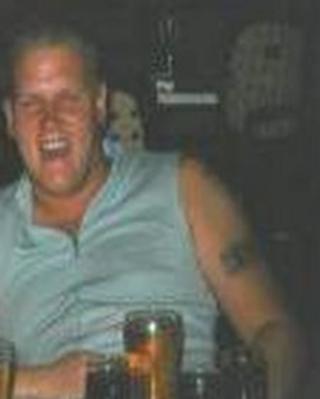 A man who died after being stabbed in Rotherham at the weekend has been named by police as 40-year-old Justin Hague.
South Yorkshire Police said they were called to a disturbance in Brinsworth shortly after 22:00 GMT on Saturday.
Mr Hague, who lived locally, suffered several puncture wounds and died in hospital.
"I cannot believe he has gone, I cannot believe he won't be here with us this Christmas," His wife, Natalie Hague, said in a statement.
"It seems a senseless and pointless act which has robbed me of my husband and father to our children."
CCTV footage
South Yorkshire Police have now arrested a third man on suspicion of murder after the stabbing.
A 36-year-old Brinsworth man was arrested on Tuesday night and is being questioned by detectives.
Police have obtained extensions to continue questioning another five men already arrested about the incident.
Two men, aged in their 20s, are being held on suspicion of murder and three men, from the Rotherham area, are being questioned over a suspected aggravated burglary.
Police are examining CCTV footage for more information.