Stocksbridge steel town to get 140 new houses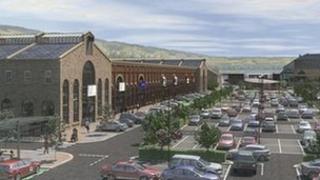 One hundred and forty new houses are to be built in a former steel town near Sheffield.
The major housing development at Stocksbridge, north-west of Sheffield, will accompany a retail project.
Plans for the houses, which are to be built on the old Samuel Fox steelworks site, were unanimously approved at a Sheffield Council meeting on Tuesday.
Stocksbridge was once the centre of South Yorkshire steel-making, employing 12,000 people in the industry.
Now unemployment in the town is high and the only large steelworks left is a Tata Steel (formerly Corus) plant.
'Ghost town'
The new housing development is planned for the valley between Manchester Road and Hunshelf Bank, just below the Stocksbridge bypass.
A new link road will be built from the bypass to the town, alleviating traffic on Manchester Road.
The retail project was approved in 2009 and will include cafes, shops, offices and a 64,000 sq ft supermarket on the former Outokumpu steelworks site.
Stocksbridge residents have welcomed the news, saying the area was becoming "a ghost town."
Barbara Horsman, chair of Stocksbridge Community Forum, said the link road will make a big difference to the development.
She said: "Most people feel this is what Stocksbridge needs, but without the link road from the bypass, people would be extremely unhappy. We don't want big lorries for the retail development and building supplies lorries coming along Manchester Road."
Objections to detail in the plans concerned flooding, increased traffic, loss of rights of way and the impact on local schools and ecology.