'Pimped' mobility scooter returned to Doncaster owner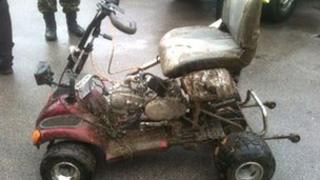 A "pimped" mobility scooter has been returned to its owner after it was seized by Doncaster Council.
The scooter had been modified with a 140cc petrol engine, go-kart wheels and a large exhaust.
It was ridden in a field in Bentley at 60mph by its 24-year-old owner, scaring wild deer and annoying residents.
Council officials spotted the scooter through binoculars and enlisted the help of police community support officers to make the seizure on Sunday.
Doncaster Council said people got a "second chance" after they had their vehicles seized.
The owners have to pay impound and administration fees, and agree not to cause a nuisance again.
'Licensed tracks'
The council said it had realised that the "pimped-up" scooter was a highly-specialised machine which had cost a lot to build.
"Rather than crushing vehicles immediately we advise people where they can drive without causing a nuisance," the council said.
Councillor Cynthia Ransome, who is responsible for communities, said: "Whilst it may look like a lot of fun to ride, this type of noisy vehicle annoys residents immensely and terrifies local wildlife and walkers.
"We don't want to stop people having fun and this is obviously quite a feat of engineering, but when they build machines like this they should be used at licensed tracks and not in areas where they annoy others."
The council said people must drive on private land where it will not disturb others, or at off-road venues like Doncaster Moto Parc.
The owner of the scooter is not thought to be disabled.