Doncaster councillors to discuss allowance cut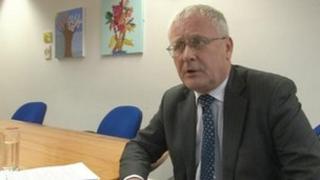 Councillors in Doncaster are to discuss cutting their annual allowance to £12,000 at a full council meeting.
The proposal is for a cut of about 5% in the allowance as well as scrapping free bus passes and free parking for council meetings.
Mayor Peter Davies said 63 councillors cost the town "something like £1.3m a year" and in the current climate it was "completely obscene".
If passed, the changes will start in April 2012.
Mr Davies, of the English Democrats, was elected as Mayor of Doncaster in June 2009 after he received almost 33% of more than 25,000 votes.
As mayor Mr Davies takes a special responsibility allowance of £30,000, which he reduced from £73,000 when he took office.
He said the changes to the allowance were "reasonable" and added: "I hope members will accept the proposed recommendations."
Councillor Sandra Holland, leader of the Labour group, said: "We must and will make sacrifices."
Currently the full allowance is £12,715.
The report has been prepared by the council's Independent Remuneration Panel.