Occupy protest: Sheffield Cathedral fearful of bank reaction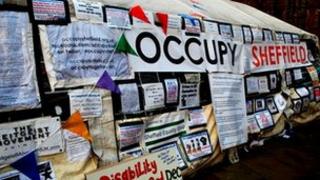 The Dean of Sheffield has said he is "afraid of losing the relationship" with banks after Occupy Sheffield based its camp outside the city's cathedral.
The Very Reverend Peter Bradley, wrote a letter to local businesses, assuring them that it was doing all it could to end the protest.
Dean Bradley said banks had previously funded projects at the church.
He said: "We don't want them feeling that because we haven't said anything, we are agreeing [with the protest]."
Barclays deal
Dean Bradley told the BBC: "In London at the St Paul's protest, banks have said they have not heard the church saying that they have been pleased at times to work with the banks.
"So in Sheffield I wanted to say, 'Yes, in Sheffield I have been pleased to work with the banks'.
"We really value our partnership with many of the local businesses in the town centre and because of what some of the protesters have said we are concerned that those businesses don't think that we agree with everything the protesters say.
"I'm afraid of losing the relationship.
"Primarily its the cathedral's Archer Project. We've benefited from long-term relationships with Barclays Bank and HSBC.
"The important thing about Barclays is they were almost our first funder of the building of the Archer Project."
The BBC approached Barclays Bank, however it did not want to comment.
In Dean Bradley's letter to local businesses he said the church was doing all it could to bring the protest to a peaceful conclusion, adding that it deeply valued its "long term partnerships with many companies, banks and other agencies in the city".
'Against poverty'
Nigel Slack, a protester at the Occupy Sheffield camp said the protest was not aimed at the church.
"We are not there in some form sort of protest against the cathedral and we are not there to disturb wherever possible the cathedral's operation.
"We feel the information and the campaign we have started needs a great deal of publicity and it's a good place for us."
The Occupy Sheffield camp has been based outside the cathedral after around 50 campaigners marched from City Hall to the cathedral protesting "against poverty and capitalism" on 5 November.
When the group originally set up its camp, church members raised concerns about the "important" work in the city being damaged by the Occupy Sheffield camp.