Beer swipe-card machines in Hoyland pub get go ahead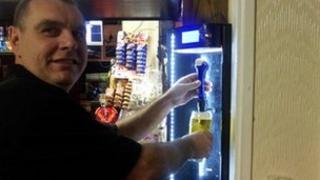 A pub landlord has redesigned swipe-card machines in his pub to dispense beer and is now ready to introduce the system before Christmas.
He had been told to stop using the devices by trading standards officers.
Dave Barron, of the Queen's Head, at Hoyland near Barnsley, had to redesign the device because of their concerns.
He has included a brewery metering system to dispense "bang on" half a pint to customers and has been told it is ready to use by trading standards.
Mr Barron has a patent pending on the design and said he was not aware of any other machine like it.
He said that the metering system had increased the cost of each beer dispenser to about £1,200 but now the brewery was helping him to fit three of the modified machines inside his pub.
'Shorten bar queues'
Two machines will dispense lager and one bitter.
Trading standards officers had previously told him the machine could only dispense drink in metered measures and not be free-flow.
He said he did not think the dispensers would introduce the concept of a fully self-service pub and did not want to "do away with bar staff".
Customers must go to the bar to buy the pre-paid card so staff control its use he added.
Mr Barron is now thinking about introducing his dispenser to concert organisers.
He believes the machine could help to shorten bar queues at busy venues.
Trading standards have been contacted and have yet to respond.