James Gethen used baseball bat to beat mother to death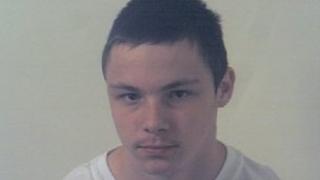 A boy beat his mother to death with a baseball bat and told his sister "I hope she's dead", a court has heard.
James Gethen was 15 years old when he attacked his mother Ann, 39, at their home in Goldthorpe, near Barnsley, South Yorkshire, in August 2010.
He was given an indeterminate detention order by a judge at Leeds Crown Court who heard he had significant psychiatric problems at the time.
Gethen admitted manslaughter on the grounds of diminished responsibility.
Gethen, now 16, was told he must serve at least five years before he is considered for release.
Mr Justice Openshaw was told the teenager hit her a number of times with the bat while she was sitting on a settee.
After the attack, the judge heard Gethen told his 16-year-old sister Paula: "I don't care what I've done. I'm not bothered. I hope she's dead."
School attack
He later told a neighbour: "I hit my mum round the head with a baseball bat. I could see her brains and everything."
The judge heard Gethen had a history of "episodes of unprovoked, compulsive violence" and a string of psychiatric problems including the childhood equivalent of an emerging personality disorder.
He was told of one incident in which Gethen tried to strangle a fellow pupil in a PE class with a shoelace, after which he said: "I decided I wanted to kill him."
The court heard Gethen had had an extreme reaction to the death of his 71-year-old father Eric on Boxing Day 2009.
Gethen "tried to enter the grave" and "wished at the time to be buried with his father", the judge was told.
The court was also told of Gethen's complex family life and how he lived in a fire-damaged, boarded-up house where he was forced to share a bed with his sister.
The court heard he was not suitable to be dealt with by an order to be detained in a mental hospital.
Instead, the judge said Gethen would be detained at a local authority secure unit.
The judge said: "There's a very high risk that he may cause serious harm to someone else. Neither I nor the doctors can say when, if ever, that danger may pass."