Doncaster's Bentley Park revamp project to get £2.5m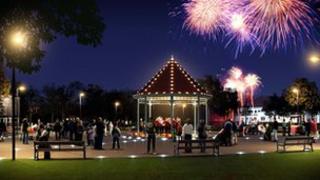 The Heritage Lottery Fund is donating £2.5m towards restoring a park in Doncaster originally set up by a support group for miners.
A new fountain and bandstand will be built at Bentley Park, while its 1931 pavilion will get an overhaul.
The park, which opened in 1923, was created by the Bentley Miners Welfare Fund.
Doncaster Council said work on the project would start next year and finish in 2013.
The work will also include new railings, gates and footpaths.
Homes and businesses in Bentley were flooded after torrential rain in 2007.
Cynthia Ransome, council cabinet member for communities, said: "Given what the local people had to put up with during the floods a few years ago, I am delighted they have so much to look forward to."
A reformed Friends of Bentley Park group meets on a monthly basis to share photographs and stories of the park.
Facilities in the park included a bandstand, tennis courts, bowling greens, sand pits and a children's play area but many of these are in a poor or unusable condition.
The HLF uses money raised through the National Lottery for a wide range of heritage projects.