Occupy Sheffield camp plans Christmas stay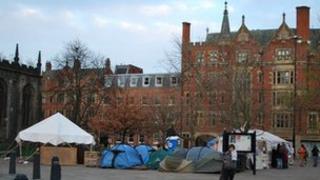 Occupy Sheffield protesters plan to have a traditional Christmas Day in their camp outside the cathedral.
Dave Harvard said protesters would have a turkey dinner, drinks and watch films on 25 December.
Ten protesters have said they will stay at the camp for Christmas, while others plan to drop by to show their support.
Mr Harvard said the festive mood was "uplifting" and the communal tent was being prepared for Christmas.
"We have two Christmas trees which people have been decorating," he said.
"There's holly outside and last night we were singing carols."
Twenty protesters have regularly been sleeping at the camp overnight and others drop by throughout the day.
The camp is protesting against "poverty and capitalism" and was set up on 5 November.
Other Occupy demos are being held in many of the UK's major cities.
On 21 January, the national Occupy conference will come to Sheffield, having been in London and Edinburgh.
"We will carry on as long as we possibly can," said Mr Harvard. "If we can find a better site, we will move there but we won't go away."