Ashtiaq Asghar detained for canal murder in Rotherham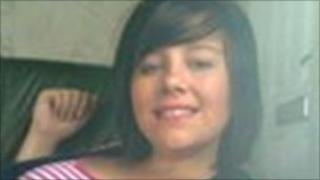 A man has been detained for at least 17-and-a-half years for repeatedly stabbing a teenage mother and leaving her to die in a South Yorkshire canal.
At Sheffield Crown Court, Lord Justice Davis said Ashtiaq Asghar, 18, had "got into the mindset" that he saw "white girls simply as sexual targets".
Asghar, of Holmes Lane, Rotherham, had earlier pleaded guilty to murdering Laura Wilson in October 2010.
Miss Wilson, 17, was found dead in the South Yorkshire Navigation Canal.
Earlier this month another defendant, Ishaq Hussain, 22, of Fernham Road, Rotherham, the father of Miss Wilson's four-month-old daughter, was acquitted of killing her.
'Elements of sadism'
However, the judge said he thought Asghar had treated his friend Mr Hussain as a mentor.
Miss Wilson had had relationships with both men, the court was told.
The judge told Asghar: "Hussain seems to have regarded girls, white girls, simply as sexual targets.
"He does not treat them as human beings at all.
"You got into that mindset yourself."
However, the judge said he could not be sure Asghar had set out with the aim of killing Miss Wilson.
The court heard how Miss Wilson was killed days after revealing her affairs with the two men to their families.
Asghar lured her to the canal-side, near the Meadowhall Shopping Centre, and attacked her with a knife.
The court heard how he stabbed her a number of times in the head but she was still alive when she was left in the water.
Some of her injuries may have been caused by Asghar prodding her with the knife to stop her getting out of the canal, the court was told.
The judge said there were "elements of sadism" about the attack.
He said that Asghar, who was 17 at the time of the killing, would have received a much longer minimum sentence if he had been just four months older.
The judge ordered that Asghar should not be considered for release for 17-and-a-half years.
Serious case review
Det Supt Mick Mason, of South Yorkshire Police, said it had been a "horrendous attack".
He said: "It was a sadistic attack on a young girl. The last moments of Laura's life must have been terrifying."
Asked about the judge's comments about Asghar's attitude towards white girls, the detective said: "I wouldn't like to comment on that. We've investigated the murder of Laura who was a young girl murdered on a canal bank. That was our investigation.
"There will clearly be a serious case review to look at all circumstances of the case."
Alan Hazell, chairman of the Rotherham Local Safeguarding Children Board, said it was a "despicable crime".
"The Rotherham Local Safeguarding Children Board has commissioned a serious case review and the executive summary will be published shortly following discussions with Laura's family which can take place now the trial has finished."