Traders' concern for future of Castle Market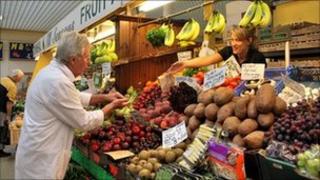 Traders at Sheffield's Castle Market have said they are worried some stalls will not be open for business in 2012.
Some traders said the three months in the run-up to Christmas were the worst they had seen.
A new £18m market will be built by 2013 but traders said unless the council did more to help, businesses may fold before it is completed.
The council said stall-holders had been given a rent reduction for the past three years.
Ian Bingham, from Bingham and Brown greengrocers, said: "This is the worst I have ever known it in 28 years.
"This is going to be my worst Christmas ever. It's very serious. I think you'll find after Christmas a lot of the traders will start leaving this place."
Mick Cull, chairman of the Sheffield branch of the National Market Traders Federation, said the market was struggling to compete with supermarkets.
He said: "They have 800 or 900 free car parking spaces and we have zero. In 2012 the modern woman wants to go in a car somewhere convenient to shop, not park across town and struggle with bags."
Mr Cull said footfall figures for the market had decreased by at least 20% in the past four years and the 30% rent reduction given by the Labour-run council was no longer any help.
Councillor Bryan Lodge, the council's deputy leader, said: "We understand the concerns of market traders which is why we are doing everything we can to help them.
"Traders at Castle Market had a rent reduction for the last three years. The council reintroduced this again this year to reinforce our commitment to the traders while we wait for the new market, which starts on site next year."