Dean calls for Occupy Sheffield protesters to 'move on'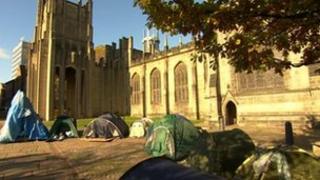 The Dean of Sheffield Cathedral has called for protesters camped outside the building to leave.
The Very Reverend Peter Bradley said: "As long as they're illegally encamping, I have to say move on."
About 50 members of Occupy Sheffield, who are protesting against "poverty and capitalism", pitched tents outside the cathedral on 5 November.
The protesters said they had also taken over a nearby former Salvation Army building.
Dean Bradley said: "I think there are real opportunities for all people to work for our city and I want to get on with that and not be distracted by having to manage the protest in front of the cathedral."
On Wednesday the protest group said they had occupied a former Salvation Army building on Cross Burgess Street but still planned to keep their cathedral camp going.
Scott, who is a volunteer at Occupy Sheffield, said: "The occupation is an occupy everywhere movement. We're not just 'occupy the cathedral forecourt'.
"We need an indoor space for many reasons - heated indoor space for disabled access, a larger space to hold conferences indoors, away from the rain and snow."