South Yorkshire Stagecoach bus drivers hold seventh strike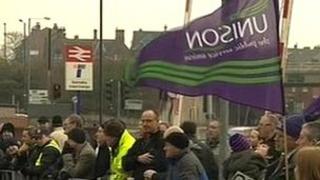 Bus drivers in parts of South Yorkshire are staging their seventh day of strike action in a dispute over pay.
The drivers, who work for Stagecoach and are members of the Unite union, say they want parity with drivers working for other South Yorkshire bus firms.
Stagecoach said it expected to operate a "near-normal" service in Barnsley, Rotherham and the Dearne Valley despite the planned 24-hour strike.
Another one-day strike is expected to be held on 16 January.
'Poor relations'
Six days of action have already been held by Stagecoach drivers in November and December.
The Unite union had previously said its Stagecoach bus drivers felt like the "poor relations" in South Yorkshire.
Paul Lynch, managing director of Stagecoach Yorkshire, said the company had been in negotiation with Unite for more than six months.
"In contrast to many other companies and organisations in the current climate, we have made several pay offers, one of which was recommended for acceptance by Unite," he said.
Stagecoach said it would run a "near-normal" service between 07:00 and 18:00 GMT.
Its Sheffield bus services would be unaffected by the industrial action and all school services would operate as normal, the company said.