Doncaster Council approves 4% pay cut plan for staff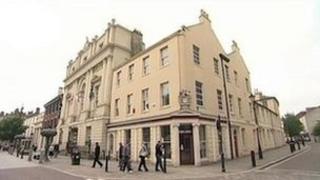 Staff at Doncaster Council could take industrial action after the authority approved a 4% pay cut.
A meeting voted in favour of changes to workers' terms and conditions, including a pay cut for about 7,000 staff.
Jim Board, from Unison, said a ballot would be held urging members not to accept the proposals.
The authority's chief executive Jo Miller said it would save £6.2m a year and between 200 and 250 jobs.
Doncaster Council said workers who were paid up to £15,000, along with staff at schools, would not be affected.
As part of the proposals, overtime pay and monetary long service awards would be withdrawn.
Mr Board said: "These plans mean a large number of our members are going to suffer quite a severe pay cut on top of an already falling standard of living.
"We are preparing a ballot and are recommending our members do not accept the pay cut.
"If they reject it and the council goes ahead then there is a very real threat of industrial action."
Jo Miller, chief executive of Doncaster Council, said: "What we really want to do is to make sure we lose as few jobs as possible and that we protect services to our residents.
"While this is really difficult, and nobody does this with a glad heart, this is one of the ways we can protect services and jobs."
The directly elected mayor of Doncaster, the English Democrats Party's Peter Davies, said he was "appalled" by the decision.
Speaking on BBC Look North, Mr Davies said: "We should have looked at this much more carefully and saved money in areas which didn't affect people's pay at low levels."
Chairman of Doncaster Council's employee relations committee Craig Sahman said the authority was reviewing the pay of senior staff after union leaders expressed concerns over salaries of chief officers.