KFC in Rotherham wins appeal against planning refusal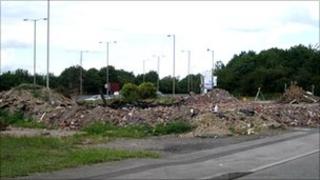 Fast food chain KFC has won its appeal against a decision to turn down plans for a new restaurant in Rotherham.
KFC had originally applied to build an outlet in Canklow but was rejected by Rotherham Council in July 2011.
The Planning Inspectorate who reviewed and approved the appeal said a number of conditions would be imposed.
The original application was met with strong opposition because the site is 40m (131ft) away from a primary school.
In the appeal decision made on 9 January, the inspector said the restaurant would see its opening hours restricted, odour and noise controlled, as well as arrangements by KFC for litter collecting and installation of CCTV introduced.
'Disappointed'
Canklow Woods Primary School started a petition last year to stop KFC opening a restaurant close to its main entrance, for fear that it would impose on its healthy eating scheme.
In the report it said the fast food chain would not jeopardise the local healthy initiative as children were not allowed to leave the school at lunch or unaccompanied by an adult.
Labour councillor Mahroof Hussain, who had campaigned against the plans, said he was "disappointed" by the decision and said the council would possibly look at exploring ways to prevent fast food outlets opening near schools in the future.
A spokesperson for the franchisee that operates KFC in South Yorkshire, said: "We're pleased with this decision because we believe a new KFC can be a positive addition to any community.
"We were able to address the council's concerns around noise control in our planning appeal, and the new restaurant will create between 30 and 40 new jobs in the area. Building work will start soon and we look forward to welcoming local residents to the restaurant this summer."