South Yorkshire bus drivers hold further strike over pay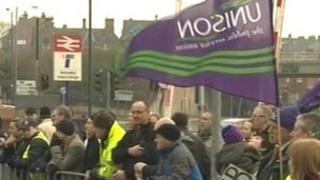 Stagecoach bus drivers in parts of South Yorkshire have gone on strike after rejecting a pay offer.
Drivers in Barnsley, Rotherham and the Dearne Valley turned down a 5.5% pay increase which would have raised their pay to just over £9 per hour.
Stagecoach said it would bring in more than 100 managers to drive buses to help minimise disruption.
All Stagecoach buses in Sheffield and Chesterfield and school buses are unaffected.
The strike is the eighth day of industrial action taken by the drivers in a six-month dispute with Stagecoach.