Baby bond scheme at HMP Doncaster given High Sheriff Award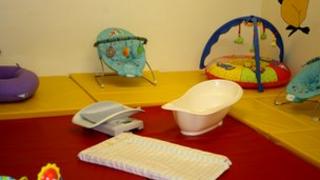 A woman from South Yorkshire who set-up a scheme to encourage prisoners to interact with their children has been given an award for her work.
Brenda Fraser, who set up the Families First Scheme at HMP Doncaster 18 months ago, said she was "thrilled" to be given the High Sheriffs Award.
The programme allows inmates on good behaviour to spend time with their children in a "friendly environment".
Ms Fraser said she set up the project after seeing families argue.
"I thought 'there must be more that you can do', why should we punish the partners and children.
"They've been sentenced, they are in serving the punishment so there must be more to keep them together and educate them.
"It was just something I wanted to see."
The award, which recognises outstanding achievements within the South Yorkshire community, was presented by the High Sheriff Andrew J Coombe during a ceremony at the prison.
The project has a designated area within the visitor centre, offering two classrooms for older children and a sterile area for parents to bath and bond with newborns.
'Opportunity to bond'
Craig, who was sentenced to three years in prison for robbery, said the project had given him an opportunity to be a "proper dad" after his partner gave birth three weeks after he was sentenced.
"I get to change his nappies, I get to bath him, I get to feed him, I just get to play with him and be a proper dad.
"Whereas, I'd be in here until he was three-years-old and I'd never have that opportunity and he wouldn't even know who I were", said Craig.
"The entire Family First project will keep people from re-offending.
"They give you the opportunity to bond with your kids but even just to make peace with your missus or wife.
"When I do get out of prison, he's going to know who is dad is. It's not going to be a shock to him."
Ms Fraser added: "I think what people need to realise is, the days of banging them up and locking the door should be banished now.
"Why can't we educate these men so we can put them back out into the community so they stand a chance of changing their lives for the better."