King Ecgbert School in Totley votes for academy status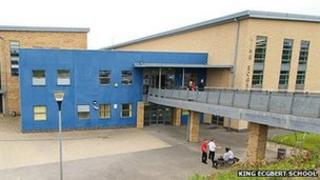 A Sheffield school is to apply to become an academy, despite opposition from some parents.
A vote was held on whether King Ecgbert School in Totley should seek academy status at a meeting attended by all governors on Tuesday.
The motion to convert was carried 16 to 2 with one abstention.
Previously parents had complained that as well as a consultation process there should have been a parents' ballot on the "monumental" issue.
Ian Hewson, chair of governors, said: "This decision has been taken in the best interests of the school.
"We are determined to defend and continue to improve the high standards and the rich curriculum we provide at King Ecgbert, and academy status will enable us to do this."
Consultation 'a sham'
The school said the conversion to academy status would probably take from three to six months.
Andrew James, of King Ecgbert School Parents for Local Education Authority Status (Kes Pleas), which has 50 members, said that aside from the "disappointing and un-democratic" lack of ballot, the consultation process itself was not good enough.
"We are bitterly disappointed about the governors' decision," he said.
Mr James called the consultation process "nothing more than a sham", saying parents had been given less than a week to return forms with their views about academy conversion.
"We understand that of the forms that were returned, only four supported conversion whereas 39 opposed it," he said.
"Had there been a fair parental ballot in good time prior to the decision being formally made, there would no doubt have been much more opposition."
Mr James went on to say that the school governors had in effect accepted a "short-term bribe in return for longer term financial instability" which may turn out to be a decision that the school would "sincerely regret in years to come."
He said good schools like King Ecgbert's should be collaborating and co-operating with other Sheffield schools, not "competing against them for scarce resources and acting in their own short term interests".
Head teacher Lesley Bowes said academy conversion would not change the school's fundamental principles or its commitment to being part of the Sheffield education community.
"The vision and the ethos for the school will not change," she said. "My desire is that indeed nobody will see a difference. It is about securing all that we believe to be valuable at the moment."