More elderly people in Sheffield being 'financially abused'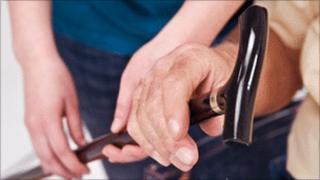 More elderly people in Sheffield are being "financially abused" by their relatives because of the economic downturn, said the city council.
The authority received 206 reports of "financial abuse" of elderly people in 2010/2011 compared to 114 in 2009/2010.
Sue Fiennes, chairwoman of Sheffield Adults Safeguarding Partnership, said such abuse took many forms including stealing money from relatives.
She said current financial difficulties had put greater pressures on people.
Ms Fiennes said many of the cases were a "breach of trust".
'Victims fearful'
"Obviously older people in particular are very vulnerable to being persuaded into giving their money away or abused by their money being taken or theft occurring."
She added: "When finances are tight for people there will be more pressure to find money and resources where people have not felt they should or would not have found it before."
Ms Fiennes said many of the victims did not raise the issue with the relative for fear of being isolated.
"If you've got close relationships you don't want to raise any issue, you are fearful by saying you are bothered about it," she said.
Ms Fiennes said many of the cases reported to them had been raised by other concerned relatives, neighbours or support workers.
She said because such cases were being brought to their attention, the safeguarding board was better able to assist with the problem.
"If you get to prosecution you have to have evidence but if you take it to a lower level you can get agreement to the person's finances being managed and supported by someone who is trustworthy by a better appointeeship or court of protection."
Gary Fitzgerald, chief executive of charity Action on Elder Abuse, said the cases in Sheffield were typical of what was happening across the country.
"It's horrible to say but most of the time it's the son or daughter stealing from the parents."
He added: "There's a delicate line to cross and it's a simple one. It's when the old person feels they don't have control over the money and that transfer of control can be very subtle when it's one of your own family."