Doncaster Council revises pay cut from 4% to 2.5%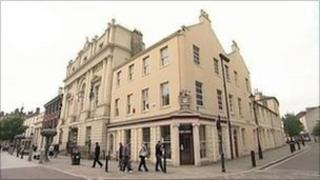 A South Yorkshire council which approved plans to cut staff pay by 4% has revised its offer to 2.5%.
Earlier this month Doncaster Council voted through changes to workers' terms and conditions to make £6.2m savings over four years.
Under the new plan, staff earning less than £15,000 will also have a smaller pay cut.
The trade union Unison said it would return to negotiations with Doncaster Council on Monday.
Peter Davies, mayor of Doncaster, said the revised offer had been made to enable better protection for low paid workers.
The council said discussions had been ongoing to ensure a final set of options could be agreed to benefit all staff.
It said the changes had been achieved by spreading the required savings over a two-year period instead of one year.
'Cushion blow'
Mr Davies said within the previous proposals "there was a complete lack of support on details concerning protection for the lowest paid members of staff which was unacceptable".
He said: "I'm pleased to see we now have a set of options in place that will help cushion the blow, as well as protecting jobs and services, and saving all the money that we need to."
Under the revised proposals, staff earning more than £20,800 would be subject to a 2.5% cut.
A 2% cut would apply to staff earning between £15,000 and £20,799 and a 1% reduction across staff groups earning £14,733 to £14,999.
Jim Board, from Unison in Doncaster, said the union was "unsure" if the revised deal was the best that could be achieved.
"We are still convinced that there is money there to minimise the impact further on those staff who are dedicated to their jobs at Doncaster Council," he said.