Country house robber Daniel O'Loughlin recaptured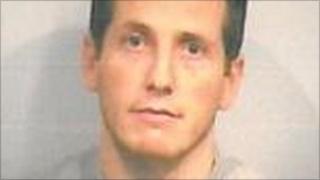 A man who absconded from a South Yorkshire prison after being jailed for a series of raids on country houses has been recaptured.
Daniel O'Loughlin, 35, was jailed for 11 years in 2008 for his part in raids on country houses such as Ramsbury Manor in Wiltshire.
O'Loughlin had been given a temporary release from HMP Hatfield for a work placement when he failed to return.
He was arrested at a Coventry hotel on Wednesday, Gloucestershire Police said.
He was held on suspicion of escaping lawful custody and is being questioned at Cheltenham police station.
A 26-year-old woman was also arrested on suspicion of harbouring an escaped prisoner.
£30m robbery
Det Insp Alistair Armstrong said: "We're pleased to have him back in custody and off the streets so he can't cause any harm in our communities."
O'Loughlin is a member of a group of travellers known as the Johnson gang who carried out a series of raids on country estates across Wiltshire, Berkshire, Oxfordshire and Worcestershire.
The raid on Ramsbury Manor, the home of property tycoon Harry Hyams near Marlborough, Wiltshire, was thought to be the most valuable domestic burglary ever committed in the UK.
The gang got away with antiques and art valued at about £30m.
The homes of former Formula One motor racing tycoon Paddy McNally, Lord Lieutenant of Berkshire Sir Philip Wroughton, and Lord and Lady Sandys were also targeted.
The family had lived at the Cleeve Prior travellers' site in Evesham.
O'Loughlin was jailed along with his uncle Ricky Johnson, his cousins Richard 'Chad' Johnson and Albi Johnson and Michael Nicholls.
The family's sentences ranged from eight to 11 years.