Doncaster Keepmoat Stadium 'picking' taxpayers' pockets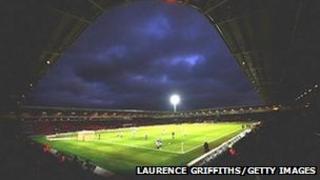 The elected mayor of Doncaster says council tax payers cannot continue to have their pockets "picked" to keep the town's sports stadium running.
English Democrat Peter Davies said it was "vitally important" to find a new operator for the £32m Doncaster Council-owned Keepmoat Stadium.
The stadium, currently run by a management company, is estimated to have lost £2m since opening in 2006.
Doncaster Rovers football club said it was interested in doing a deal.
'Doing deal'
Mr Davies said it was "complete idiocy" that Doncaster Council had built the Keepmoat Stadium in the first place and he wanted to find a new operator for the arena as soon as possible.
"We've got to back it in its current form for a short period, but clearly it's vitally important that we find a solution to this problem that does not involve ratepayers having their pockets picked to support the stadium which many of them may well never see," he said.
Doncaster Council recently approved a grant of £170,000 to help keep the 15,000-seater stadium afloat.
John Ryan, Chairman of Championship club Doncaster Rovers, criticised the operator of the Keepmoat Stadium, the council-owned Stadium Management Company (SMC).
He said he was "fairly confident" that the football club would take over the running of the stadium within a year.
"We're still interested in doing a deal and I think a deal will be done," he said.
Julie Nichol, stadium manager from SMC, said it would be "inappropriate" to comment while Doncaster Council was in negotiation with Doncaster Rovers.